Back to Poslfit at Home
See also John's Mexico photos from 2000, 2001, 2003; Nancy Wenker's House (low-tech virtual tour), Virtual tour of Puerto Morelos, Yoga at Villas Shanti
Travelling in the Yucatan
This web page is intended for use by our friends and family who travel to our favorite winter destination, the small fishing village of Puerto Morelos, Quintana Roo, in Mexico's Yucatan peninsula. (Here's a satellite photo if you're not sure where that is.) Some of them aren't used to international travel, so this page errs on the side of verbosity.
Booking a Flight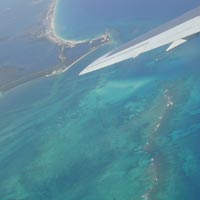 We prefer to fly Air Canada from Toronto YYZ, as they offer reliable nonstop service, and usually run several seat sales throughout the winter to entice people with ticket prices around CAD 650 tax included. Canadian travellers should avoid changing planes in the United States, as it adds immensely to travel time and hassle, and somewhat to expense.
We used to fly down on charter flights, but stopped when Air Canada started their now twice daily runs, as there was always doubt as to the solvency of the charter companies. Now of course, we sometimes worry about Air Canada.
We start looking for tickets 2-3 months before departure, and make sure we have them 1-2 months before, but it's certainly possible to get good last minute tickets even a week before, if you're flexible about your departure. Note that many airlines charge extra for weekend departures.
You may be offered a choice of seat when you book your ticket. Window seats give you an interesting view all the way down, aisle seats let you stretch your legs out a little more and make it easier to get up to go to the bathroom.
Air Canada also offers something like two dozen different types of specialty meals. I'm partial to their Asian vegetarian meal, if only because I find chunks of microwaved chicken in a cream sauce hard to digest.
Packing
It's not as hard to buy the things you forgot as it used to be, but going shopping takes time away from snorkelling and the beach.
Choose carefully what goes in your carry-on and what gets checked in. Since you may never see your checked in suitcase again (I exaggerate: I've had to wait for my suitcase for a few days, but never lost it), pack your carry-on bag with your bottle of water for the plane, a spare canvas bag to carry your winter clothing through Cancun airport, your toiletries, your valuables, a change of clothing and emergency reading materials including phrasebook and dictionary. Don't pack anything in your carry-on that could conceivable be thought of as sharp or dangerous, and don't joke about it with security. Scissors (including cuticle) and knives (including Swiss Army) go in your checked baggage. Don't take anything with you that you would hate to lose or have stolen.
ID, Tickets, Money
In theory, as long as you have your plane ticket, your passport and some money, it doesn't matter if you've forgotten any of what follows. So check at each stage that you still have them in a location secure from pickpockets. A money belt's a good idea. If you're driving, don't forget your driver's license: it's good in Mexico.
If you're Canadian, it takes at least three weeks to get a passport without rushing. You'll need to download an application (free), go to a photographer to get two passport photos taken ($10 or so), get your doctor (or some similarly respectable person) to sign your application and one of your photos, then go to a passport office with all your ID and $60. If you're in any hurry, take along your plane ticket as proof of your rush, and be prepared to pay $30 for two-day service or $70 for overnight service.
Make a copy of the main page of your passport and of your plane tickets, and keep them separately in case you lose either.
Many tourist-oriented businesses will accept US paper money, some even accept Canadian paper money. Rates vary significantly from place to place, and from hour to hour, and it's hard to generalize except to say that you shouldn't change any money at the airport, and you should carefully check what rates and fees are before changing your money anywhere.
There's an ATM on the north side of the town square in Puerto Morelos, so bring your bank card. It supports at least two of the major American networks. I think they're Cirrus and Plus, but am not sure. I do remember that the machine expects you to type very, very quickly, so be prepared. Also, put all your money away before you leave the ATM enclosure. Americans probably don't need to be told this; Canadians do.
There's a currency exchange that usually offers reasonable rates, also on the north side of the town square.
A lot of places accept Visa. If you're not sure, you can ask "Accepta Visa?" or "Accepta tarjetas?" (accept-uh tar-HAY-tuhs).
The Yucatan used to be dirt cheap, but now it's full of American tourists. There are still bargains here and there, but if you budget as though you were travelling in the States, you'll be fine.
Clothing
Check the long-range weather forecast at weather.com before you go. When we usually travel in mid-February, we need to pack for daytime temperatures of in the low 30s C (high 80s F) and nighttime temperatures of the low 20s C (high 60s F). If you're staying at Nancy and Herman's house, they have a washing machine, so we don't pack more than several days' clothing. For travelling from the cold north, I dress in layers as lightly as I can tolerate, bearing in mind that I may be returning to colder weather than I'm leaving from. This typically means a T-shirt, a shirt, a fleece sweater, and a very light jacket, jeans and running shoes.
Make sure that you have light clothing that can cover you completely, to protect you from the sun, either until you tan or for the duration, whichever comes first. In the evenings, you'll also want to be able to protect yourself from mosquitos if you're going out to eat.
I have yet to find a place in the entire peninsula where I have felt underdressed in a pair of jeans and a dress shirt.
If you have a favorite snorkel, mask and fins that fit well, bring them. A cheap pair of flip-flops and a light towel that you don't mind risking losing at the beach are a good idea too. (If you're staying at Nancy Wenker's, she has a plentiful supply of towels.) I have heard of people forgetting to pack a swimsuit. Don't be one of them. If you're a guy, pack a T-shirt to protect your back from sunburn when snorkelling. If you're female, consider that topless sunbathers are a rarity in Puerto Morelos but commonplace elsewhere along the coast (say in Cancun or Playa del Carmen).
Food and Drink
Like most countries, Mexico will not let you bring in any food items which may pose a threat of disease to local agriculture. I usually bring a large bottle of water, to keep hydrated during during the flight down, chocolate (in a small cooler bag, with ice packs) and comfort junk food (good cookies and non-tropical chocolate are hard to find).
Pharmacy
Many drugs, even those which would require a prescription in Canada, are readily and cheaply available at pharmacies in Mexico. But if you get sick, you may not want to deal with the hassle of going shopping, so pack everything you think you might need, and make sure that it's clearly labelled and accompanied by prescriptions so that you won't run into trouble at Customs.
You may specifically want to bring along medication for traveller's diarrhea, migraines or other headaches, fever, and a topical antibiotic, along with whatever else you're used to taking.
The full list, because I've probably forgotten each one at one time or another: toothbrush, toothpaste, dental floss, shampoo, conditioner, antibacterial soap, laundry detergent, moisturizer.
Don't forget sunscreen, which can be surprisingly difficult to find in Mexico. (You can always find something, but it may not agree with sensitive skin, or it may not be sufficiently strong to protect pale skin.) Mosquito repellant with DEET if you're planning on spending a lot of time out in the evening, or any time in the jungle. Kristen uses SPF 35. I'll use a bit of SPF 10 the first day or two, or just bum some of Kristen's.
Tech
I try to bring as little tech as possible, because anything I bring I have to find a place to securely store when I go swimming. "Securely" means safe from the attention of a reasonably equipped burglar with say ten minutes of uninterrupted access to where you're staying. For me, "as little as possible" means: a shaver, a cellphone, a digital camera and a laptop. Yes, I know, I'm a peon for not having one gadget that does it all, but I hate the thought of having to replace my camera when my phone (or shaver) breaks down.
As of 2004, my Fido/Microcell cellphone can now roam on the local TelCel network, check your provider before leaving to see if they have a roaming agreement with TelCel, and ask what the rates are. My provider, Fido, also warns its customers that if you have your phone set to ring first and then bump over to voice mail, each such call will get charged for two long distance hops. I set my phone to forward all calls straight to voice mail without ringing, and get text message notification of any calls that I do miss. If you use an accursed Motorola cellphone, remember that you have to manually specify which network you want to connect to, even if it's the only one available.
The travel agency just west of the town square used to be the closest thing we had to an Internet cafe, but as of 2004 there's a better place on the main street, close to the zocalo, across from Goyo's chicken. That's because the phone company started offering DSL service, which has been quite popular, so if you have a WiFi-equipped laptop you might stand a reasonable chance of stumbling across an open network in town. My parents' tenants have a password-protected one, so my parents have high speed wireless access in their house, even though they don't have conventional telephone service.
I used to worry about what to do with my camera, and more importantly its film. The film would get slightly exposed from the airport X-rays, and I'd have to keep it in the fridge to protect it from the tropical heat. The best thing to do is go digital. If you haven't, then ask for hand inspection of your film at the airport, try to get it processed at any of the one-hour photo finishing places in Cancun at the earliest opportunity, and don't buy film anywhere that isn't air conditioned or refrigerated.
The power grid has gotten much better in the past ten years. When I first brought down a computer (a Mac SE/30!), I tested the house current at between 70V and 140V depending on the time of day. Nowadays, it stays much closer to the nominal 110V/60 Hz. I still wouldn't leave a computer plugged in when the weather's bad though. Most long-term residents invest in heavy-duty power line filters for their electronics. Outlets are of North American design, though mostly two-prong and often not polarized. (Nancy Wenker's house and my parents' house have a few retrofitted three-prong-compatible, but not actually grounded, outlets.)
Books
Like all normal people, we bring along one suitcase of books and one suitcase of clothes. If you like to live dangerously, I suppose you could bring along enough books to survive the flight down and an emergency overnight somewhere, and plan on buying the rest at the excellent used bookstore on the south side of the town square. (shudder)
If you don't speak Spanish, then bring along a small Latin-American phrasebook (like the Berlitz or Rough Guide) and possibly a small dictionary (I like the U of Chicago paperback). Check that whichever one you buy specifically identifies Mexican usage, which can differ significantly from other Latin American Spanish, and is nothing at all like Castilian (European) Thpanish.
Getting to the Airport
Check before you leave for the airport to make sure that your flight is on time. If you're flying Air Canada, then go to their home page and look under Flight Status. If you have a cellphone, use the same section to set up automatic text messaged warnings of flight schedule changes.
If you're flying from Toronto and staying at our house en route, see if you can get Gary to drive you to the airport and pick you up. This means you, Jennifer. He really doesn't mind driving, as long as it's not too god-awfully early in the morning or late at night.
If not, you can book an airport limo from Aerofleet the night before. As of January 2004, they charged $45 each way.
For a total of less than $20, you can take the subway to the Toronto Bus Terminal and then pay $14.95 to take the Toronto Airport Express (bus) to the airport. Service every 30 minutes during peak hours.
You can also take the subway to Kipling station and then the 192 "Airport Rocket" bus to the airport, all for the cost of a token, departures every 20 minutes during peak hours, 40 minutes off-peak.
If you have a car, then parking at Park'N Fly is cheaper than taking a taxi each way, if you download and print a coupon from their web site. Depending on which of their three services you choose, you may also earn Aeroplan miles and take advantage of their valet parking service (a pleasant perk when flying home one a cold winter night).
In any case, be sure to check your itinerary to see which of the three terminals (1, 2 or 3) you're leaving from.
At the Airport
Look for the check-in desks for your airline and destination. Ask before you get into a long line to make sure you're in the right one. If you're flying Air Canada, you may be able to use one of the electronic kiosk terminals to avoid a long queue. There are always swarms of Air Canada staff around the terminals, and they're genuinely helpful except when trying to clear the airport because of a citywide blackout. If you've arrived late and are concerned about making your flight, ask an Air Canada person for advice before doing anything else. If you've arrived early and are a smoker, find a place for a quick smoke, because you won't be able to light up again until you're in the terminal building in Cancun.
Get your plane ticket and passport out when you get in line to see the Air Canada agent. They'll take part of your ticket and give you a boarding pass. Put the ticket away safely, and keep your boarding pass and passport easily accessible but secure until you board your plane; you'll be asked for them repeatedly. If the agent doesn't tell you, ask what gate you're boarding from and at what time.
After you've checked in your luggage, you'll be directed to security. (If not, ask the airline agent.) Follow the instructions at security, and avoid humour at all costs. If you've inadvertently packed something that you can't take aboard the plane, you'll have three choices. You can throw it away, mail it to yourself (ask security where you can buy a padded envelope and stamp at the airport), or ask someone to come to the airport and take it home for you.
After security, go straight to your gate and relax. If you'll be visiting anyone in Puerto Morelos, buy a newspaper for them. The Miami Herald and USA Today aren't too hard to find in the Yucatan, but for most expats, news from home (especially Canada) is a treat.
The Flight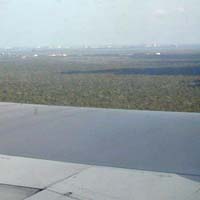 The flight to Mexico is an hour longer than you think it is, because the Yucatan is on the equivalent of Central Time, one hour before Eastern Time. So if you're arriving at 1:00 P.M. local time, it'll read 2:00 P.M. on your watch until you adjust it.
It does take about four hours though, which is long enough for everyone to settle in, have a complementary nonalcoholic beverage, have a hot meal and watch the in-flight movie before getting ready to land. Sleeping is probably slightly preferable to watching the in-flight movie, especially if it's something like Almost Famous, which let me state for the record makes no sense at all if you edit out the scene where everyone thinks they're going to die in a plane crash.
If you have an aisle seat, get up and stretch your legs a few times, even if you don't think you have to. Deep-vein thrombosis is a bad thing. If you have a window seat, enjoy the view. Keep an eye out for the Appalachians, which you'll probably cross over Kentucky or Tennessee, the Caribbean, and landfall on the north end of the Yucatan peninsula. In your final approach to Cancun airport, you'll fly over a long stretch of jungle, but should be able to see the hotel strip off to the left. On the way home, most planes fly right past the hotel strip, and you can get a spectacular view of the beaches, again from the left side of the plane.
They'll give you a Mexican immigration "landing card" aboard the plane. Fill it out carefully. There'll be instructions in English, French and Spanish, a part that you aren't allowed to write in, and a place where you have to sign it. It'll ask where you're staying. If you're staying at Nancy Wenker's house, just write "casa de Sra. Nancy Wenker, Pto. Morelos, Q. Roo". Don't lose the landing card. Once you get past Mexican immigration, they won't let you out of the country without it, so keep it tucked safely in your passport.
When the plane lands, resist the temptation to get up from your seat with everyone else, at least until they tell you it's safe to do so. Spend the time instead getting organized for your walk across the tarmac to the terminal building. It'll be in tropical heat, so take your winter clothes off and put them in that spare canvas bag. Make sure you have your passport, plane ticket (which has your baggage claim receipts stuck onto it) and landing card secure but accessible.
At Cancun Airport
Follow everyone else into the terminal building. There's no rush, as you'll all end up waiting to claim your baggage anyway. The first long queue is to go through Immigration. If you're coming down as a tourist for a week or two, this is a complete formality. Smile, say "Gracias" to the remarkably efficient staff.
Once you're past Immigration, you're in Mexico. If you leave your belongings unattended, your purse open, or your wallet in an accessible pocket, you will be relieved of those burdens. If you look at anyone other than a government official, they will try to sell you something that you really ought not to.
Pick up your checked-in luggage at baggage claim. (Ignore the people trying to sell you Mexican pesos, excursions or accommodation.) You may be asked to show your plane ticket with the receipt stubs for your luggage. There are generally not enough staff to check though, so if you're in a hurry or can't find your receipts, wait until all the staff are busy befor you grab your bag.
As you leave baggage claim, you have to go through randomized customs inspection. If you haven't brought anything valuable or agriculturally dangerous, you don't have anything to worry about. Everyone has to push a button, which supposedly randomly lights up a red/green stoplight. If it's green, then walk straight out of the room. If it's red, roll your eyes, sigh, and take your bags over to one of the inspection tables at the side, where a customs officer will paw through everything you have.
Once you're past Customs inspection, you're out in the public area of the terminal. Ignore the throngs of drivers who will insist that you need a ride. They're persistent, so it's really best to walk straight past them and not even say "No, gracias", which can be interpreted as an opening bargaining position. Look for whomever you've arranged to meet you. (Jennifer, that'll be me.) If they're not there, then wait half an hour before panicking. Punctuality is a foreign concept.
If you do need to take a cab to your destination (either because you have no one meeting you, or because they haven't shown up), then before you get in the cab or let go of your bags, tell them where you're going and ask them how much it will cost. Some drivers won't go to Puerto Morelos because of the likelihood that they'll have to drive back without a fare. If you're going to Nancy Wenker's house, ask the driver to let you off at the Hotel Ojo de Agua (O-ho day AH-gwa), which is immediately behind her house. If they don't know the hotel, find another driver. Looking inland from the hotel, my parents' house is the third from the left of the six on the block, and Nancy's is the second from the right.
If you're picking up a rental car, look for the sign for your car rental agency. They all have desks in the arrivals terminal, just past the customs 'stoplight', before the throngs of people waiting to greet arriving passengers. Check in with them and they'll drive you over to the appropriate rental lot. You'll need your credit card, passport and driver's license (Mexico allows tourists from most countries, including Canada and the U.S., to drive using their own licenses without applying for an international license). Gregg Foster writes that as of early 2004, old VW beetles (sadly recently discontinued) can be rented for about USD 110 per week, plus about the same amount in insurance. Do not, under any circumstances, decline insurance. If you are involved in a traffic accident and do not have insurance, you will be jailed at least until you can prove your innocence.
From the Airport to Puerto Morelos
There's only one way out of the airport, onto a wide access road that takes you to the main highway running up and down the coast. There's something that looks like a pair of tollbooths near the beginning of the access road. Some traffic has to stop in the outside lane and talk to the man in the booth. I've never figured out which. Just drive along the inside lane, and you won't have to stop.
When you get to the main highway, turn right at the partial cloverleaf, onto the divided four-lane highway running through the jungle, headed toward Playa del Carmen, Tulum and ultimately Chetumal. Slow down (and if necessary, stop) at the police checkpoint, if it's manned. Drive about 20 minutes until you see the Puerto Morelos exit, which is controlled by a stoplight. You'll need to turn left at the road, which near the exit will divide into through and local lanes, and you'll want to be in the leftmost lane. Which is a through lane, go figure. Drive two miles along the access road to Puerto Morelos, until you see the town square. You'll have three opportunities to turn left, one before the town square, one at the nearside of the town square, and one at the farside. If you're staying anywhere I know, turn left at the nearside of the town square. Nancy Wenker's house will be on the right, on a block of six similarly shaped but wildly differently coloured houses, past the school and past what I think are still called the Villas Latinas, and before the large open clearing on the left.
If you're not driving, enjoy the view and the tropical air. Watch for wildlife, especially birds.
If you are driving, enjoy the view but keep your eyes on the road. Watch for livestock, pets and small children.
If you need to be giving directions to a taxi driver and don't speak Spanish, well, let's hope you aren't in that situation, but the really important words are: aqui (ah-KEY, here), alli (ah-YEE, there), izquierdo (EASE-key-air-dough, left), derecha (day-RAY-chah, right) and derecho (day-RAY-choe, straight).
What To Do in and around Puerto Morelos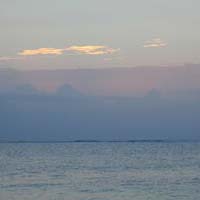 The best thing to do is to walk to the beach, snorkel for an hour, go home, pour yourself a cold drink and lie in a hammock. Repeat.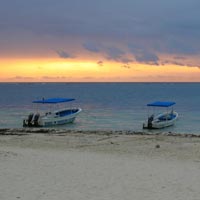 To be more precise, wake up at 6:00 A.M. and listen to the birds for a few minutes before you get out of bed. Walk to the beach and watch the sun rise. It's different every day, and if you miss it, it won't be rerun later or ever. Walk along the beach and enjoy the cool morning air. Look to see what the sea has washed up overnight. Say "Hola" (oh-la) to everyone you meet. See how close you can get to the sandpipers. Count brown pelicans and magnificent frigatebirds. See if you can spot rays in the shallows. By about 8:30 or so, make sure you're either headed for some shade or have got your sunscreen on. Have some breakfast, go for a swim, take the rest of the morning off.
If it's your first time there though, you'll probably want to "do" more, so here are some ideas.
Restaurants
My favorite local restaurant is Los Pelicanos, on the southeast corner of the town square. I've been going there for more than ten years, and there were trips when I ate every dinner there. Order a limonada (limeade), ceviche mixto (mixed seafood ceviche) or ceviche de caracol (conch ceviche) or coctel de camaron (shrimp cocktail), a filete de pescado al ajillo (grouper with garlic), f de p tikinchik (grouper Mayan-style) or f de p a la veracruzana (grouper Veracruz style).
When you enter a restaurant, the waiter or maitre d' will ask you where you want to sit, and how many of you there are. When you've sat down, he'll ask "Algo a tomar?" (Something to drink?). When he comes back with your drinks, he'll ask if you're "listo" (ready) to order. After you've had a few minutes to enjoy to food, he'll come back to ask if "todo bien?" (all's well). Finally, it's considered impolite in Mexico for a waiter to bring you the bill without asking. Ask for "la cuenta, por favor", if you don't want to be there until closing time. TVA is what Canadians call GST, what Americans call tax, and what everyone else calls VAT. Tips are generally not included.
The other restaurants on the town square are fine, too. You'll hear from anyone who's been in town for a week that someone got sick eating at each of them, and it's probably true. "Fine" doesn't mean that you can pig out on food teeming with unfamiliar microscopic flora, or that you can safely eat fresh vegetables or salads. There are also restaurants that are not "fine", and it's fairly easy to tell the difference by looking. Hint: are there any other tourists enjoying their meals?
If you want a surprisingly upscale dining experience, try John Gray's Kitchen, on the back road, near the highway access road. Great food, not bad prices by American standards. Don't sit in the booths, which can be mosquito traps.
My favorite restaurant in Cancun is a restaurant called Los Almendros (the almond trees) that specializes in Mayan specialties (including some good vegetarian dishes and some fabulous ice cream). (They're unfortunately closed for renovations for the 2003-2004 season.) Ask for directions to the restaurant, or to the bullfighting ring across the street. Roughly speaking, you drive up the main road into Cancun (av. Tulum) until you get to Sayil, turn right and drive one long block to av. Bonampak, and you'll see it on the near left corner but be unable to get to it without some very daring driving.
If you do get a craving for salads or other good vegetarian fare, visit any of the branches of the chain "100% Natural" in Cancun, on the Cancun hotel strip, or in Playa del Carmen. They've built up their business on a deserved reputation for not poisoning their clientele.
The best place I've found to eat on Cozumel is the snack bar at Chankanaab park. I'm not kidding. The food is great, and you could spend a couple of days there snorkelling, bird-watching, and working your way through the menu. I'd love to hear about other places to eat in Cozumel though, I can't believe that there aren't any other decent restaurants.
If you make it as far as Coba, make sure you have lunch at the hotel restaurant at the Villas Arqueologicas Club Med, it's worth the trip. (It's also where I proposed to Kristen.)
Shopping
You can shop for the basics in Puerto Morelos itself. A supermarket (reminiscent of Ontario cottage country convenience stores) next to the ATM at the northeast corner of the town square sells basic food supplies, not entirely fresh fruit and vegetables, stationery, alcohol, etc. A much better source of fresh produce is the weekly Wednesday market, at the southwest corner of the town square. Arrive early (7:30 A.M.) as the best stuff goes fairly quickly. Mama's Bakery, one block west of and a few blocks north of the square, is not only an excellent place to go for breakfast, but chef Diane makes very good bread and will take special orders. Last year, there was an interesting health-food store at the southeast corner of the square, across from Los Pelicanos. I hope it's still there this year.
We usually make a weekly shopping run up to Cancun, where prices are cheaper than in Puerto Morelos, and range of product selection is closer to what we're used to. There's a WalMart, and a CostCo, as well as domestic chains like Chedraui and San Francisco. If you're worried (with good reason) about getting lost or trapped by flooding (streets have no drains) in Cancun, then an easy place to shop is Plaza America, on the east side of the main road (Avenida Tulum) at the south (near) end of town. There's a large supermarket, a passable bookstore, a few department stores, a cinema, a food court, and anything else you might expect to find in a shopping mall.
Alma Libre, on the south side of the square in Puerto Morelos, is a good mostly English-language new and mostly used bookstore run by a couple of Canadian expats.
Cozumel has more good dive shops per block than you could believe. If you're flying down without snorkelling or diving equipment thinking that you'll pick some up in the area, make sure that you go to Cozumel early on in your trip. If you aren't planning to go to Cozumel, you can find someone trying to sell or rent snorkelling gear of dubious quality under just about any palm tree or palapa, so don't worry that you'll miss out on the reef experience.
Even easier to find than purveyors of snorkels, fins and masks (and often operating under the same palapa) are sellers of souvenirs, T-shirts and assorted kitsch. If you feel compelled to go shopping for these things while in Puerto Morelos, don't forget to look up to a block south of the town square on either of the two north-south streets. On the western of the two, there's a row of stalls operated by local craftspeople (watch out for the crocodile) (I'm not kidding); on the eastern, there's a nice little store that sells handicrafts from across Mexico.
Activities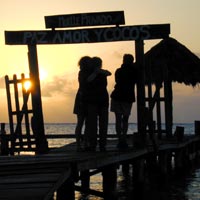 Things I do in Puerto Morelos: snorkel along the shore, snorkel at the reef, swim, dive, lie on the beach, walk along the beach, walk in town, lie in a hammock, read a book, go shopping, go out for coffee, go out for a meal, go out for a drink, practise yoga.
If you enter the water from the pier north of the Hotel Ojo de Agua, go out no more than fifty metres from shore and drift/swim with the usual current down to the palapa pier, you'll see more fish and coral than you could anywhere other than the reef, for free. If you're lucky, you'll spot the hotel's eponymous underwater spring.
If you're an experienced swimmer/snorkeller, watch out for jellyfish larvae (when in season, look like swimming thimbles, but can sting), rays in the shallows (early and late in the day, don't step on them), windsurfers and kayakers (you can't hear their motors). Wear some sort of flotation device (it's the law, and there are patrols), and ideally carry an inflatable diver's buoy for visibility (just a good idea). Don't wear diving gloves: they're against the law because you can safely touch and therefore possibly poach coral with them.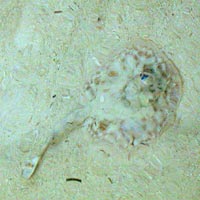 If you're not, don't worry about sharks (we see maybe one every five years) or barracudas (like most fish, they think you're big and dangerous). Look for fish hiding under and around the piers until you're completely comfortable with your gear. Watch out for boats: when you hear them, stop swimming, raise your head and make sure they see you. Be aware of the currents, don't swim too far out or past the palapa pier. You won't feel the sun exposure in the water, and sunscreen is not good for the fish, so limit your exposure the first few days, and wear a T-shirt when swimming. Always swim with a buddy.
If you're a strong swimmer, you can swim out to the reef, which parallels the coast, in about fifteen minutes. (If you can look out to sea, it's where the waves are breaking.) Bring a good personal flotation device (life vest), because you'll need it for buoyancy to avoid hitting the reef. I usually take along a small inflatable raft, a bottle of water and a snack.
If you're not a strong swimmer, rent a fishing boat and guide to take you out there. Go in a group and negotiate a good rate. Do what your guide tells you to, but don't believe all the stories he tells you.
Going for a walk? Puerto Morelos got rid of its mad dog problem ten years ago, so unless you're an Englishman, stay out of the sun from noon to three. Stores run by sensible people close for the afternoon, which is better spent in the shade with a cold drink. When you do go out, don't worry about getting lost. It's at most four blocks from the beach to the mangrove anywhere along the coast, and you can walk from one end of town to the other in twenty minutes.
If you walk along the beach, you'll see plenty of shorebirds and the occasional crab or briefly airborne fish. If you walk closer to the mangrove, and move quietly, you'll see interesting tropical birds, and maybe even some rabbits, coatis, capybars or crocodiles. Watch out for ... no, I can't think of anything to watch out for. Look both ways before you cross the street, maybe?
Hammocks (hamacas) in the Yucatan are woven in various sizes from various materials. You can buy them (from among other places) from a craftsperson south of the town square (zocalo). Natural fibres breathe, and are substantially more comfortable than synthetics. I can't tell the difference among the different natural fibres, myself. They're sized according to how many people they're expected to fit, like a bed: single, double, and family-sized.
Standard rooms may not have grounded power outlets, but they do usually have hammock hooks. They're typically metal, round, 10 cm in diameter, and have a cover that swings aside to reveal a piece of metal with two holes. You tie a loop of rope (soga) to each end of the hammock (to allow for length adjustment, and to keep rust stains off the hammock), put each loop onto a metal S-hook (ese) and hang the S-hook through the hole in the wall-mounted hammock hook. Climb in and out carefully. It's easiest if you sit on the edge of the hammock, like a swing, as you get in and out; and more comfortable if you lie either crosswise or at least diagonally.
A lot of people offer massage and other physical treatments. My personal favorites are Mauro Jaramillo (USD 50 for an hour of deep muscle massage, located just south of the Internet cafe on the main road) and Joe Will (chiropractic and kitesurfing, sometimes works out of Mauro's office, has his own space in an apartment upstairs from Mama's Bakery on the west side of the big open space).
My aunt, Jean Loew, offers drop-in Iyengar yoga classes (USD 12? for 90 minutes) on Tuesday and Thursday mornings at 7:00 A.M. She's near the north end of the main road, in a big white house on the west side, with a small wooden sign on it that reads "Jack & Jeane [sic]". Arrive a little early, in case the class fills up. Don't forget to stop at Mama's Bakery on the way home.
More to follow
Sights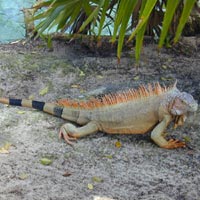 More to follow
Accommodation
More to follow
Staying Healthy
More to follow
(sun exposure).
(sun exposure).
(inflight flu).
(alcohol, food consumption, overexertion).