Back to poslfit.com.
See also the 2002 CanAm.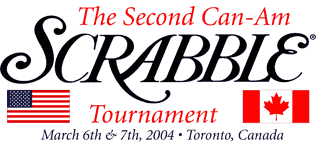 ---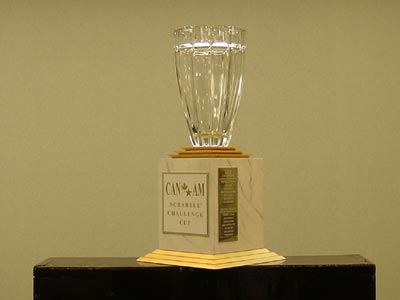 About the Event
The Second Can-Am SCRABBLE® Tournament took place on Saturday, March 6th and Sunday, March 7th, 2004 at the Travelodge Yorkdale at 2737 Keele Street in Toronto. Seven top American players faced seven top Canadian players, vying for possession of the Can-Am Challenge Trophy.
The United States took the cup from Canada, winning 63.5-34.5 and clinching their victory after Round 10. (By curious coincidence, Canada clinched the tournament last year after Round 10!)
This year's event was a sanctioned National SCRABBLE® Association tournament, and was be played by that organization's official tournament rules.
For further information, please contact tournament organizer Joel Wapnick at jwapnick@music.mcgill.ca or tournament director John Chew at 416-876-7675 or jjchew@math.utoronto.ca.
This Year's Teams
John Luebkemann and David Gibson were unable to travel to the event, and were replaced the day before the event by Matt Graham and Randy Greenspan. The next designated alternates (based on September 1st, 2003 ratings and willingness to travel at the last minute) were Zev Kaufman (Canada) and Chris Cree (United States).
Tournament Results
Results and annotated games were posted at this web site at the end of each day. Unlike at many other tournaments, the winning country was determined based solely on games won or lost, with point spread not being used as a tiebreaker. is the one that wins the most games: point spread is Hopeless games may therefore be ended by resignation.
You can read the full results of the tournament in two forms. The wall chart shows the pattern of wins and losses for each team. The estimated ratings lists after day one and day two give more detailed individual statistics. The photo gallery includes a picture of each player and most staff members.
The following words were challenged by Canadian players: eucrase chaetae (outplay) livewire coleroot palatines tutty spiraea noter+goral ferites adorners birrs. The following words were challenged by American players: phats moked laland ying panouts unbooted presedia toolable bendable greenlet. There were no rules adjudications requested!
84 of the 98 games were recorded for subsequent analysis and/or publication. Some of them will be posted here shortly, others may appear in a book or CD.
Tournament Schedule
Players played a fourteen-game double round-robin, eight games Saturday and six games on Sunday Play starts at 9:00 A.M. each morning.
Staff
Tournament Organizer: Joel Wapnick
Tournament Director: John Chew
Word Judges: John Chew, John Robertson
Data Entry: John Chew, Kristen Chew
Lead Annotation Editor: John Robertson
Annotation Editors: John Chew, Kristen Chew, Fern Lindzon, Heather McCall, Kevin Gauthier, Zev Kaufman
---
This coverage was produced at the event by John Chew, webmaster of the National SCRABBLE® Association. SCRABBLE® is a registered trademark of HASBRO in Canada and the United States, and of J.W. Spear & Sons Limited elsewhere in the world.