Back to Chew Genealogy Documents
Grave Marking Ceremony for John W. Chew
The following extract is quoted without permission from a web page of the Society of the War of 1812 in Virginia's report on its 2003 activities. It describes a grave marking ceremony performed for John W Chew at the Society's 2003 meeting.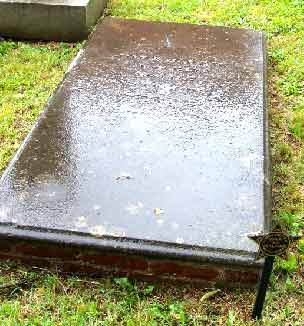 John W. Chew Grave Marking
At the grave marking ceremony portion of the War of 1812 Society's annual convention held in Fredericksburg, VA on June 7th 2003 the grave of John W. Chew in the Masonic Cemetery was marked with the War of 1812 Society marker.
The marker preparation and installation was performed by member Ray Gill. The photograph attached shows the gravestone and the unveiled marker. The following information about John W. Chew was read at the ceremony. The required research was performed by Trip Wiggin, President of The Rappahannock Colonial Heritage Society and Mike Lyman.
Gravestone Inscription:

John Chew
Born 1773
Died 1837
Aged 65 years

John W. Chew was a Private in Colonel Waller's 16th Regiment of Virginia Militia from Spotsylvania County and a Corporal in Colonel Crutchfield's 1st Regiment. Muster Roll 38, Records 2708-9
John was one of 12 children mentioned in his father's will (John Chew, Esquire, died 1789). His mother was Anne Fox (buried in St. George's cemetery). He was a brother of Caroline Matilda who married John Stanard in 1815; Philadelphia C. who married a Waller; Anne, who married a Brock; Elizabeth, who married a Cammack; Thomas; Robert; and Beverley (of New Orleans). His sister Lucy died unmarried in 1815 and is also buried at St. George's.
John's will dated 11 Oct. 1837 leaves a silver cup, a gold watch and chain, and a double-barreled gun (silver mounted, in a mahogany case) to various relatives as well as bequests to the Fredericksburg Lodge #4 ($400) and to Louisa A. Skymanski and Maria Peacock for the education of their children. He was unmarried.