Back to Chew Genealogy Documents
Forbes House
On 2004-04-10, the Free Lance-Star published an article entitled "Forbes House had deep roots", describing the history of a home that stood in Fredericksburg VA from 1786 to the mid 1900s and was home to Anne Mercer Chew and her husband Frank Thornton Forbes. It makes intriguing mention of a miniature portrait of John Chew. I have the full text of the article, but post only extracts here for copyright reasons.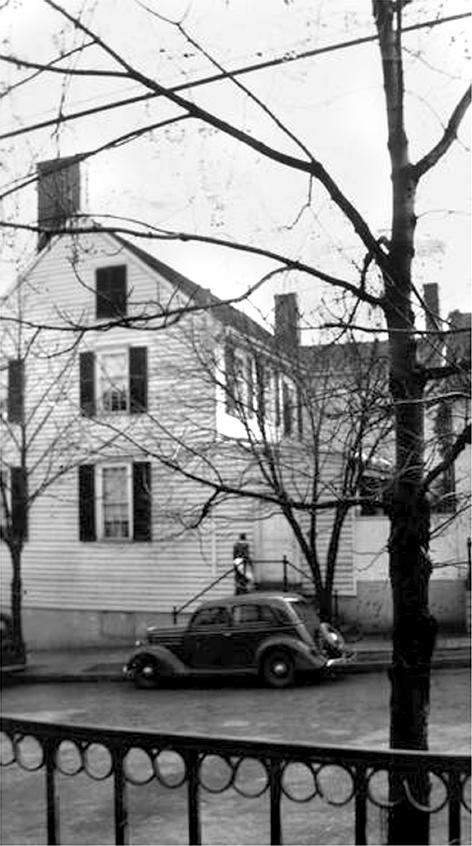 "The original portion of the Forbes House was erected circa 1786 and was the home of Charles Yates until his death in 1809. Charles Yates was born in 1727 at White Haven, England. He purchased the lot upon which he built his home from Zachariah Lewis, who was at that time an extensive landholder in Spotsylvania County."
"Yates was a highly regarded member of the local Masonic lodge. Upon his death, his home passed on to his nephew John Yates, along with the wedding ring of Charles' grandmother Yates, Charles' gold ring engraved with his coat of arms, and other properties."
"One story connected with the house is that at one time--the exact time period is not known--Dr. George French, a Scottish immigrant, and his American bride, Ann Benger, a niece of Alexander Spotswood, lived there. French was a physician and one of Fredericksburg's first mayors."
"Following the occupancy of Robert Stannard, the house became the home of John Herndon. His great-niece Ellen Lewis Herndon was the wife of President Chester A. Arthur. John Herndon was a renowned attorney and sat as judge of the Fredericksburg Court in 1870. His daughter would marry Seth Barton French."
"The house passed to Frank Thornton Forbes in 1871. He was married to Anne Mercer Chew. Sallie Forbes was in residence in the 1930s when she was interviewed for the Works Progress Administration by N.M. Deaderick on March 11, 1937."
"At the time of her interview, Sallie Forbes was joint owner of the property with her sister, Mrs. William Owens of Savannah, Ga. Sallie and her sister were the daughters of Frank Thornton Forbes and Anne Mercer Chew and were the great-granddaughters of Francis Thornton, Gen. Hugh Mercer and Dr. David Forbes."
"Dr. Forbes was a Scottish immigrant who married Lady Margaret Starling, the only daughter of the last laird of Herbertshire. The couple married in Edinburgh in 1774 and came to Dumfries and later to Stafford County. Dr. Forbes would serve as a surgeon in the Revolutionary War."
"In the 1930s WPA report, mention is made of Sallie Forbes' extensive collection of miniature portraits of prominent Virginians. This collection included John Chew (clerk of the Fredericksburg Court 1787-1806 and great-grandfather of Sallie Forbes), Judge John Herndon, Sallie Innes (wife of Francis Thornton of Fall Hill), Lady Spotswood (wife of Alexander Spotswood), Dr. David Forbes, Murray Forbes, Robert Dunbar, James Fitzgerald (great-uncle of Sallie Forbes), and countless others--all indicative of Miss Forbes' impressive lineage."
"Sallie Forbes continued to live at her beloved home for the remainder of her life. Local resident Tomi Reneau recalls visiting "Cousin Sallie" there as a young girl."
"The house was sold out of the Forbes family in the mid-1900s. The new owner dismantled the house [...]."